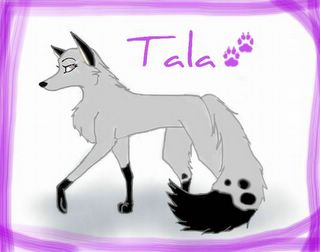 Thea first sketched this on paper from her own imagination, then scanned the sketch, and filled in the colors and the highlights using Corel.
Tala
means "stalking wolf", according to her, when I commented that it means "star" in Filipino Tagalog.
She's into pets now, particularly dogs. Check out her own
self-created website/forum
!
She is only 12 years old. She wants to be a computer animation artist, or one of those heroine character players at Disneyworld. : )